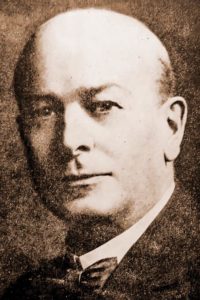 Frank Drum's early investment helped PG&E form, and he served as the utility's president between 1907 and 1920.
An 1881 graduate of St. Ignatius College, Frank G. Drum helped to launch PG&E, proved instrumental in its recovery from the 1906 earthquake and fire and went on to serve its president between 1907 and 1920. Author Gray Brechin features both Frank and his brother, John, another SI grad, in his landmark book Imperial San Francisco: Urban Power, Earthly Ruin. In that text, he notes that both men "came of a wealthy Oakland banking family and … had the advantage of an education at San Francisco's St. Ignatius College, the Harvard of the Bay Area's Irish elite."
The Colfax Record wrote about Drum in Sept. 5, 2012. Colfax, just east of Auburn on Interstate 80, has a Drum Forebay freeway exit and a Drum Powerhouse (pictured above), named for Frank.
The story and photos are reprinted with permission of the paper.
Thousands of motorists see it daily, just north of Baxter on Interstate 80: the Drum Forebay exit. Then there's Drum Powerhouse on the south side of the Bear River in Alta. But that's not all; the massive company known as Pacific Gas and Electric, with its more than 20,000 employees, has the Drum Division. The latter basically comprises the Placer County core of the company's local operations.
So who was Drum? Frank G. Drum grew up in Oakland and attended St. Ignatius College. After his 1881 graduation, he became a member of a surveying party laying out new rail lines in the state of Nevada. Early on he showed a drive and developed a reputation as someone who gets things done.
He joined the offices of Haggin and Tevis in San Francisco as a property manager. His skills grew and he became the company's principal adviser overseeing properties that included the Kern County Land Company and various corporations with vast acreages in New Mexico, Arizona, Oregon and California.
In 1903, Drum partnered with a group of pioneering hydroelectric developers in a public utility enterprise shortly after Eugene DeSabla, John Martin and R.R. Colgate put together a merger of gas and electric properties to create the California Gas and Electric Corporation. The trio got off to a rough start, and they were teetering on the edge of failure when DeSabla went to the offices of Haggin and Tevis in the Mills building in San Francisco. His goal was to secure possible bond buyers to allay a financial collapse. However, instead of finding the company principals, he found Frank Drum minding the store. Drum listened to DeSabla's presentation and asked, "How much do you need?" DeSabla thought for a moment and responded $200,000 — worth $5.25 million today. Drum took the set of drawings and the business plan and wrote his name across the cover, assuring the company that he was in for the full ride.
Two years later at 42, Drum played a lead in negotiations with N. W. Halsey & Company of New York. The result was the purchase of the
San Francisco Gas and Electric Company and the amalgamation of the two properties to become the Pacific Gas & Electric Company. The real test of Drum's mettle came the following year when the 1906 San Francisco Earthquake and Fire destroyed the new company's assets. Buildings were razed, equipment damaged beyond use, gas lines broken and water
systems demolished.
John A. Britton, a PG&E executive and long-time friend of Drum, said of him, "He was the one who never lost heart and whose vision saw over the heads of others. He made it possible for us to see also; he went forward and took us with him."
Drum went on to lead a financial reconstruction of the company as a member of the firm's executive committee and in 1907 was elected president, an office he held for 13 years. He resigned from that position because of ill health and the demands of his other business interests. He remained on the board as a director and member of the executive committee until his death on Aug. 28, 1928.
Drum was a giant in the business world of that era of industry and growth. Britton called him a natural fighter and that he was most productive when cornered. Fitting to have a powerhouse named for him.