1. Rapid Growth & Success
SI went from a one-room schoolhouse in the sand dunes (where the old Emporium used to be) to one of the leading colleges in the west in a few short years, primarily because of anti-Catholic sentiment in Europe. Priests in hiding and on the run from angry mobs (in the Turin province, mainly) were sent to SI and Santa Clara College. Among these scholars were Frs. Joseph Bayma, Aloysius Varsi and Joseph Neri — three phenomenal men of science. The first time anyone in San Francisco saw an electric light was from the window of St. Ignatius College, when Fr. Joseph Neri, SJ, illuminated his classroom in 1871, with power generated from a machine (pictured at left) used during the Siege of Paris; he later hung a carbon arc across Market Street for the centennial celebration on July 4, 1876. Fr. Varsi studied astronomy at the University of Paris where he trained to work in the royal observatory in Beijing. He came here and built "the jewel in the crown" — the third campus where the Louise Davies Symphony Hall now stands. Bayma authored several major works including a math series that used all his own proofs.
2. World Class Graduates
Early prominent graduates include John Montgomery, the first person ever to fly a glider; Senator James Phelan, former SF Mayor and US Senator; Fr. Bernard Hubbard, the Glacier Priest; and Adm. Daniel Callaghan, who received the medal of honor posthumously for his bravery at the Battle of Savo Sea aboard the USS San Francisco. (He is pictured here with FDR and the King of England during Callaghan's stint as FDR's Naval Aide.)
3. Historic Rivalry
SI has the oldest athletic rivalry west of the Rocky Mountains (with Sacred Heart) thanks to an 1893 rugby match between the two schools. (SI's 1893 team is pictured here.) SI and SH, since 1946, share the Bruce Mahoney Trophy to memorialize two grads (one from each school) who died during the war.
The entire school and church were destroyed in 1906 from the Ham and Eggs fire that raged through much of the Western Addition. By September 1906, SI had built its fourth campus on Hayes and Shrader, across from St. Mary's Hospital; that school (below) was known as the Shirt Factory for its resemblance to industrial buildings south of Market. (Also, if you say "St. Ignatius Church and College" quickly, it sounds like "St. Ignatius Shirts and Collars," leading students to dub their school the Shirt Factory.)
Nearly 400 SI grads fought in WWI, with 10 giving their lives in service to their country. Three thousand SI alumni served in World War II, with 96 making the ultimate sacrifice (including Bill Bruce, pictured here, a celebrated pilot who is honored by the Bruce-Mahoney rivalry between SI and SHC). One grad died in Korea and six in Vietnam. To honor the legacy of these men and to encourage service among our graduates, SI created the Adm. Daniel Callaghan Honor Society to honor our 1907 graduate who earned a posthumous Medal of Honor for his bravery during the Battle of Guadalcanal.
SI won the state basketball title in 1926, beating Lemoore of Southern California 20-11 in what would prove to be the lowest scoring high school state championship in CA history. (Since then, SI has won state championships in crew, cross country, and lacrosse and three national championship in crew — in 1997, 2005 and 2006. SI won its first international athletic competition in 2006 when the varsity 8 boys' crew (pictured here), coached by Tom O'Connell, took first in the Royal Henley Regatta in England on July 2.) In recent years, SI's teams have won many sectional championships, including CCS crowns in football, baseball, soccer and basketball.
We have also sent four grads to the Olympics, with Sebastian Bea (center) taking the silver in crew (coached by his old SI coach John Pescatore, himself a bronze medal winner) in the Sydney Olympics. Dick Hyland '18 also won gold playing for the U.S. Rugby team in 1924 in France. In addition Tom McGuirk '89 completed in hurdles in two Olympic games, and Jackie Lee '03 was an alternate in table tennis in Beijing.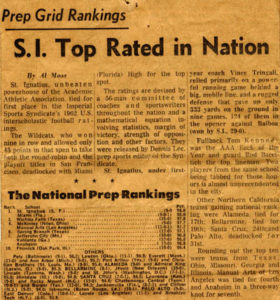 SI football was also ranked first in the nation in 1962 and went undefeated in both the 1962 and 1963 seasons.
SI football was also ranked first in SI moved to its fifth campus in 1929 at 222 Stanyan Street (pictured here). That school would serve SI students until 1969, when SI moved to its sixth site at 2001 37th Avenue and changed its name to St. Ignatius College Preparatory.
SI was named one of the top 60 prep schools in the nation in 1984; it went coed in 1989 (the first girls' volleyball team is pictured here), and in 1990s it was named one of the top 20 schools in the nations for its AP success. Most recently, it was ranked by a leading Catholic publication as one of the top 12 schools in the nation for professional development. In recent years, SI has been featured in the New York Times and the Wall Street Journal, helping to solidify the school's national reputation.